Printed self-adhesive paper tapes
We help you to be different than your competitors.
When your customers receive the package, they will remember your brand and talk about you.
Adhesive paper tapes are made of brown coated paper with weight 60g/m² and strong hotmelt adhesive.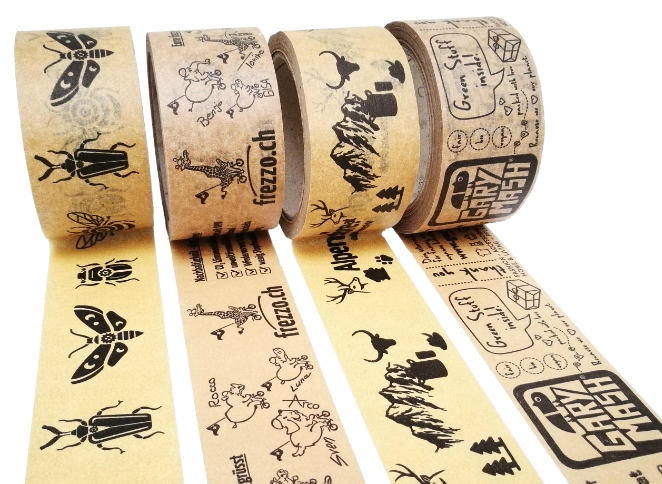 This tape has greater thickness than for example a tape made of BOPP or PVC, the coil is only 33 m compared to the standard 66 m. We offer two versions of paper, one without silicone sheeting with the option of 1-3 colours print, and the second one with silicone sheeting and the option of printing with up to 4 different colours according to PANTONE colour swatch (from 540 pcs).
These tapes can best be used for sealing unimpregnated boxes and parcels.
Standard tape colours offered:

Brown

Quality:
60g/m2 with hotmelt adhesive
Width:

Regular width 25 mm, 37,5 mm, 50 mm, 75 mm, 150 mm.
On request 12 mm, 15 mm, 19 mm, 100 mm.

L

ength

:

The regular length is 33 m in the roll for optimum dispatching, but lenght can be adjusted on request, for example 50m, 100 m, 200 m or up to machine coil 500 m.


Print colour:

NEW - From 36 pieces up to 3 colours
upon agreement also other versions up to 4 colours from 540 pieces (with silicon surface treatment)