Printed PVC adhesive tapes
Do you need to wrap up heavier consignments? We recommend adhesive tapes made of PVC foil with solvent adhesive to you. It enables proved use for example also in the food industry, where there is grease and coldness, or in case of machine packaging.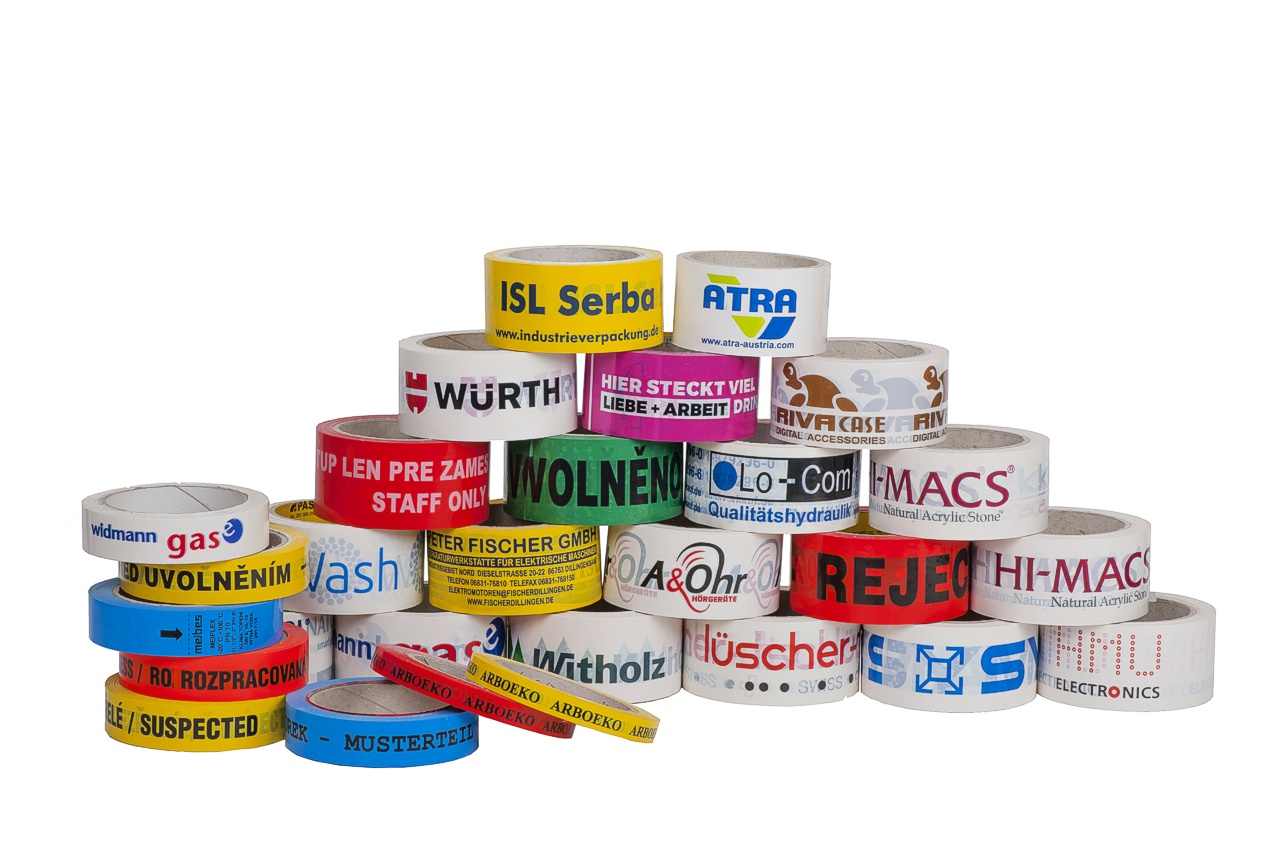 PVC stands for  polyvinyl chloride and it is a backing material for the adhesive – natural rubber called solvent glue. Rubber adhesive adheres well to all types of cardboard as well as to other materials.
What does surface print mean?
These adhesive tapes are printed on the surface of the tape with a special flexo printing machine. This means that the print is exposed to direct influence of the adhesive and is not as durable in time as for example in the case of sandwich printing. A great advantage of surface printing is the flexibility of the amount (it is possible from small series already) and the speed of supply.
Properties of PVC adhesive tape
Printed PVC adhesive tape is very resistant, flexible and firm. It unrolls evenly and quietly. It is suitable for sealing cardboards with a heavy consignment or for stabilizing other heavy objects  (carpets, metals, etc.); it can also be used for marking specific zones on smooth concrete floor.
TAPE PARAMETERS:
Standard tape colours offered:

Transparent, havana (brown), white, or in yellow, red, orange and blue.

Print colour:

From 36 pieces one to three direct colours according to PANTONE colour swatch.


Tape thickness:

We offer PVC adhesive tapes with standard foil thickness of 32 my.


Breadth:

Regular breadth: 25 mm, 37,5 mm, 50 mm, 75 mm, 150 mm
Breadth on request: 12 mm, 15 mm, 19 mm, 100 mm

Coil:

The regular coil is 66 m in the roll.
Upon agreement it is possible to adjust coil, for example 33 m, 132 m, 198 m .. or up to machine coil 990 m.

Adhesive:

Solvent adhesive